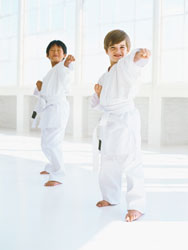 When you look at your child, what do you think is the best indicator of his/her future success? IQ? Academic record? Personality? While all of these certainly contribute to one's success in life, perhaps the most important single ingredient to success is the way in which your child views himself or herself – his/her level of self-esteem.
A child with high self-esteem behaves in the following ways:
Assumes age-appropriate levels of responsibility
Deals well with frustration
Tries new things without fear
Helps others
Thinks and acts independently
Acknowledges successes as well as failures and moves on
Conversely, a child with low self-esteem:
Avoids trying new things for fear of failure
Blames others instead of looking at self
Is a follower, not a leader
Feels he/she will never be good enough
Gets easily frustrated; gives up
Since your child's self-esteem is largely influenced by experiences that begin at birth, as a parent, there are certain things you can do to improve your child's self-esteem:
Remember you're a role model – Because your child often mirrors your behavior and feelings about yourself, self-acceptance and a positive attitude is key here.
Avoid comparisons – Each child is unique. Avoid the urge to compare your children to one another – remember how that felt when you were a child? Love each child's individuality unconditionally.
Remember that your words can have a profound effect – Don't say, "You'll never get that right!" Say instead, "I am confident in your ability to work through this problem until you get the right answer. Can I help in some way?"
Keep your expectations of your child right-sized and realistic – Don't expect that your four-year-old can do what your seven-year-old can do.Negative messages make your child feel unloved and less-than-perfect.
It is especially important today, in this era of gangs, teenage substance abuse and early sexual activity to raise your child in an environment where he or she can feel safe, secure and good about himself or herself – your child's future success in life depends on it!