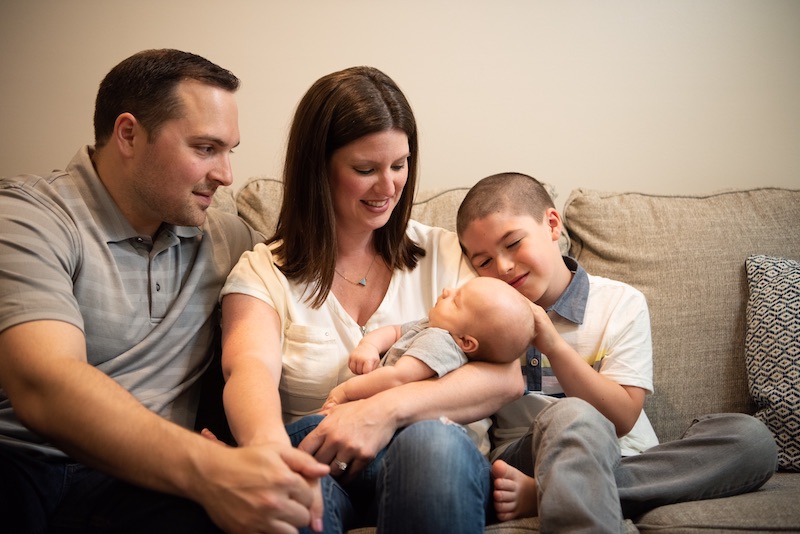 Dr. Nick is happy to share a wonderful update on his new baby boy. Baby Scanio is getting bigger every day, now weighing about 15 pounds. At 15 weeks old, he loves to laugh and smile—as you can imagine, this lights up mom and dad.
Baby Scanio also loves spending time with his big brother, Ronan, who has done an amazing job welcoming his baby brother. We know they're going to be the best of friends, and Ronan looks forward to showing him the ropes.
Baby Scanio makes an appearance in the practice weekly for his own chiropractic adjustments alongside his mom and Dr. Scanio's wife. Dr. Scanio is happy to report that mom and baby are doing great, and are both well-adjusted.
When checking his son in the practice, he looks for a couple of things to make sure everything is in alignment.
Is the baby turning his head equally to both sides or favoring one more than the other? If a newborn is always looking one way and not the other, it can be a sign of misalignment.
Is the baby sleeping and eating properly? If not, this can be a sign of nervous system interference.
Luckily, Baby Scanio has no issues with his neck movement and sleeps and eats like a champ.
Make an Appointment for Your Family
Is there a pregnant or new mother in your life? Consider talking to them about how chiropractic care can be beneficial for both mom and baby. We have the necessary experience to provide gentle, focused adjustments to help them feel relaxed, comfortable and in control of their health—naturally. Contact our office anytime to make an appointment.
Get started today!