Dr. Alex Powers, Evanston Chiropractor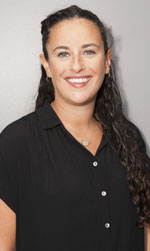 A Lifetime of Dancing
Dr. Alex first began dancing at the age of five and has never stopped. It was her experience with various dance-related injuries that triggered her interest in chiropractic treatment, and she has been hooked ever since. While performing with Evanston Dance Ensemble, and then later in college, Dr. Alex experienced extreme low back pain and hip pain that prevented her from rehearsing and performing. After seeking out multiple treatments she landed on chiropractic care that gave her complete relief, and knew she had to share that insight with her community.
A Hometown Practitioner
Dr. Alex is a lifelong resident of Evanston. She attended Evanston Township High School and was an original member of the Evanston Dance Ensemble, with whom she performed for eight years She attended Ohio State University, graduating with a Bachelor of Fine Arts in Dance. She received her chiropractic training from the Life Chiropractic College West in Hayward, California where she graduated magna cum laude before returning to the Midwest to begin her practice. In addition to being a Doctor of Chiropractic, Dr. Alex is a certified yoga instructor and a certified doula. While in California, Dr. Alex fell in love with learning about and caring for moms, children, and patients with special needs. She is continuing her training with the International Chiropractic Pediatric Association to enhance her knowledge of taking care of children and families.
In her spare time, Dr. Alex enjoys traveling, scuba diving, and taking yoga and dance classes. She and her fiancé Trevor (also a native Evanstonian) just purchased their first home in Evanston, and are excited to be back home.
Get the immediate attention you need with a same-day appointment. Schedule your time with Dr. Alex today.
---
Dr. Alex Powers | (847) 869-1773