Meet Dr. Cody Holop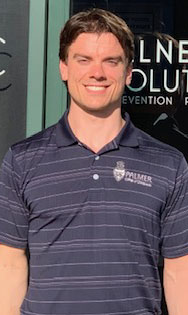 Dr. Holop was born and raised in Gages Lake, IL (Northern Suburbs). He played Collegiate soccer at Illinois College and graduated with a degree in biology and then attended Palmer College of Chiropractic in Port Orange, FL. Interning at the Chillicothe Veterans Affairs Medical Center to provide veterans chiropractic care. The more he works as a chiropractor the more his passion grows and his drive to help others receive the wonders of such treatment.
Early Experience with Chiropractic
In high school Dr. Holop had a problem with his low back which inhibited his ability to run more than a few seconds. Being a year round soccer player this really restricted what he was able to do and was in a hurry to find any solution to this problem. Someone recommended that he see a chiropractor to help solve his problem. Within two visits he had no more issues in his low back. He was able to run with ease and luckily was out of soccer for only a brief period of time. Not only was he impressed with the results, he was impressed by the atmosphere of the office and how the doctor was able to fix the problem with only his hands. Dr. Holop has always been interested in health and grew up understanding a somewhat healthy lifestyle with his mother being a dietitian.
Keeping an Active Lifestyle
Dr. Holop has played soccer his whole life, still plays regularly to this day and does not see himself stopping any time soon. Throughout his life he has grown to see the importance of fitness and believes it should be implemented into everyone's life to live a fulfilling, prosperous, and healthy life. He loves trying new hobbies and has recently moved from the state of Washington where he hiked every weekend and got into rowing. Recently he has been studying to become a Certified Strength and Conditioning Specialist and plans on taking the test in August/September.
Outside of the Office
Dr. Holop is an uncle, and loves spending time with his siblings, nieces and nephews. He believes everyone has the ability to help themselves and believe that chiropractic is an avenue for people to see the healing power of the human body. A mantra of Dr. Holop's is "Motion is lotion;" whether it is through chiropractic, exercise, yoga, or anything else. GET MOVING. He loves to provide people the ability to move better, so that their lives have less stress and make every day activities easier.
Dr. Holop feels chiropractic can help everyone in some way, Chiropractic treats patients beyond their pain: He has seen it improve one's relationships with others and motivate people to be better versions of themselves; it surprises him how profound chiropractic can be. He is grateful to have chosen this to be his profession. Everyone deserves to know what chiropractic can do for their lives; infants to the elderly can benefit from regular chiropractic care.
Get the immediate attention you need with a same-day appointment. Walk-ins are also welcome to stop by! Schedule your time with Dr. Cody today.
---
Dr. Cody Holop | (847) 869-1773