Hey Everyone,
Change has been a big theme for all of us since COVID has entered our world.  It seems to me that things are changing at such a rapid pace that keeping up is a full time job.  Some big changes that came into my world this week were that I found out that a couple of co-workers have decided to make career changes and won't be returning to work at Well Rev.  There was a time in my life where I would have taken this personally and questioned where I went wrong and what else I could have done to make their job better or if it was something we did that made them want to leave.  But if there is one thing that I've learned from COVID is that change is constant and completely out of my control.  I truly hope that by working at Well Rev that everyone is better because of it and I spend a lot of time focusing on the things I can control for everyone that I have the opportunity to work with.  It's my hope that all of our employees feel cared for and in turn know how much of an impact they have on our community.  Over the years one of  the things I've learned from running the Well Rev is that whether it's employees or patients,  people come and go all of the time.  The one constant has been change.  What I do hope is that whether it be a smile, some kind words, a gentle nudge, or an adjustment or massage, that we have been able to make all of your lives a little better.  Enjoy the update.
In Hope And Health,
Dr. Tony
1-Joke
A proud and confident genius makes a bet with an idiot. The genius says, "Hey idiot, every question I ask you that you don't know the answer, you have to give me $5. And if you ask me a question and I can't answer yours I will give you $5,000." The idiot says, "Okay." The genius then asks, "How many continents are there in the world?" The idiot doesn't know and hands over the $5. The idiot says, "Now me ask: what animal stands with two legs but sleeps with three?" The genius tries and searches very hard for the answer but gives up and hands over the $5000. The genius says, "Dang it, I lost. By the way, what was the answer to your question?" The idiot hands over $5.
2 Quotes
This past week has had me thinking a lot about change and how to deal with it.  Here are the two best quotes that I found:
"If you don't like something, change it. If you can't change it, change your attitude." -Maya Angelou
"Change will not come if we wait for some other person or some other time. We are the ones we've been waiting for. We are the change that we seek." -Barack Obama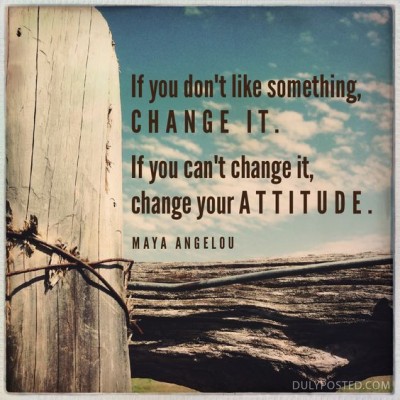 3 Things For You Mind, Body, and Soul
Mind
Here is a question that I've been pondering:
If someone could only see my actions and not hear my words, what would they say are my priorities?
Body:
All the sitting we do leads to weak hips.  Try these glute activation exercises and see how you feel:
Soul:
Grab a piece of paper and take 5 minutes to journal on everything that you're grateful for in your life.  I promise you will feel so much better when the timer goes off.