Dr. Tracy Fleege, Evanston Chiropractor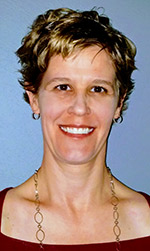 An Education in Exercise Science
Dr. Tracy attended the University of Wisconsin – Madison and graduated with a Bachelor of Science in Kinesiology (Exercise Science). She then graduated Magna Cum Laude from Palmer College of Chiropractic. Her future professional goals include achieving certifications in the field of sports medicine.
Integrative Approach to Care
Over her 16 year career, Dr. Tracy has seen a variety of patients from ages 0-100. Her experience encompasses everything from shoulder impingement, carpal tunnel syndrome, sciatic pain, and plantar fasciitis to migraines, asthma, colicky babies, women's health issues, and athletic injuries. She utilizes an integrative approach that combines chiropractic adjustments, soft tissue techniques, and active rehabilitation strategies. She especially enjoys working with runners, having run two Chicago marathons herself.
Outside the Office
In her spare time, Dr. Tracy enjoys traveling, reading, spending time with her family, watching hockey, cheering for the Badgers, and learning random bits of information that secure her status as a self-professed nerdfighter.
The ones who are crazy enough to think that they can change the world are the ones who do!
Contact us today to set up your appointment with Dr. Tracy. Same day appointments are available!
---
Dr. Tracy Fleege | Chiropractor Evanston | Wellness Revolution