New Patients at Wellness Revolution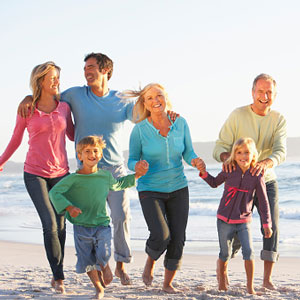 The smiling faces of the Wellness Revolution team are ready to welcome you and your family! From the moment you walk in, we'll take great care of you. We're focused on solving your problems and giving you the quickest solution to address your concern.
Your First Visit
We'll send you an email with a link so that you can fill out the necessary forms before your appointment. We'll then see you promptly when you arrive, though if there is a brief wait, you can take a seat in our relaxing massage chairs in the reception area.
Your chiropractor will sit down with you to discuss what's brought you in. Then, we'll get started on an examination to determine the source of your problem. We have digital X-rays on-site if images need to be taken. You'll spend some time on a traction table that feels similar to a massage, then receive a chiropractic adjustment.
You'll check out at the front desk and schedule for a follow-up. This appointment takes about 45-60 minutes in total.
Your Second Visit
When you return, your doctor will go over his findings from your examination and X-rays, if taken. We'll have a short-term treatment plan prepared to address your issue. You'll understand exactly how we plan to help you and why we're making these recommendations, which may include chiropractic, massage and physical therapy exercises. We'll detail all financial information and insurance coverage, and you'll be on your way in 20-30 minutes.
Regular Visits
At your follow-ups, we'll see you promptly so that you can get on with your day. Same day appointments are available, too. You'll get started by lying on the traction table for a relaxing treatment, then get an adjustment from your chiropractor. If appropriate, he may recommend an exercise to help speed your healing.
Want to Maintain Your Progress?
Many people have heard that if they start chiropractic care, they have to continue forever. Like seeing a dentist to maintain your oral health or going to the gym to stay feeling great, our patients don't want to stop experiencing the many benefits of care. Returning to our office for regular checks may keep your symptoms at bay and prevent a more serious future issue from occurring, but your health is always your choice.
For those who want to continue staying well, we offer a maintenance package that provides one chiropractic adjustment and one massage therapy session each month.
Insurance can be used for your appointments, including Medicare. Schedule your time with us today!
---
New Patients at Wellness Revolution | (847) 869-1773