Dr. Jerry Moncada, Evanston Chiropractor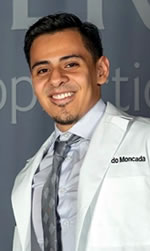 Chiropractic Education
I graduated from John R. Mott High School in a small town in northeast Iowa called Postville, Iowa. I attended the University of Iowa where I graduated with my Bachelor of Science in Health and Human Physiology (Exercise Science). Soon after graduation, I got certified in Exercise Physiology through ACSM where I worked In cardiac/pulmonary rehab and as a personal trainer. I did this for over a year before starting at Palmer College of Chiropractic in Davenport, Iowa.
Early Years and Chiropractic
During my years in high school and in college, I was plagued with lower back and shoulder injuries that would stop me from exercising and playing sports. Chiropractic was the only thing that gave me relief and made me feel back to normal. This made me want to learn more so
that I could share this knowledge with the rest of the world.
Outside of the Clinic
Outside of the clinic, I enjoy exercising, playing my guitars, spending time outside with my dog, and watching Hawkeye football.
---
Dr. Jerry Moncada | Chiropractor Evanston | Wellness Revolution