Dry Needling in Evanston IL

Dry needling is an adjunctive therapy that we use alongside chiropractic which aids in and expedites the healing process at our clinic in Evanston IL. Dry needling helps relieve muscle tension and increase blood flow which stimulates tissue turnover with the ultimate goal of faster healing.
---
Common Dry Needling Questions in Evanston IL
1. What is the difference between Dry Needling and Acupuncture? Both procedures involve the placement of extremely thin needles into the skin, but ultimately searching for different results. While acupuncture is an effective treatment for pain, it can also be used for other disorders, everything from infertility to gastrointestinal problems.
Dry needling is specifically designed to be used as a treatment for musculoskeletal pain. Dry needling targets muscular trigger points- most commonly referred to as knots. These areas of tight muscle tissue are responsible for the pain, soreness, and sometimes a limited range of movement that many patients experience. The insertion of a fine needle into the trigger point creates a tiny lesion which then tells the body to increase blood flow to the area with the ultimate goal of healing and relaxing that muscle tissue.
---
2. Is It Safe? All of our health care practitioners are certified in dry needling acupuncture. Sterile needles are always used and discarded according to the proper medical guidelines. Common side effects are soreness and bruising but most patients do not experience any side effects.
---
3. What Conditions Can It Treat?
Back pain
Neck pain
Shoulder pain
Tennis elbow
Carpal tunnel syndrome
Plantar fasciitis
Migraines
Sciatica
Hip pain
Muscle tightness and spasms
Post-surgical pain relief
---
4. How Many Treatments Will I Need?
Most patients find that they have immediate pain relief after their first session. Depending on your injury and other treatments you are receiving you may need additional sessions to achieve long-lasting relief.
---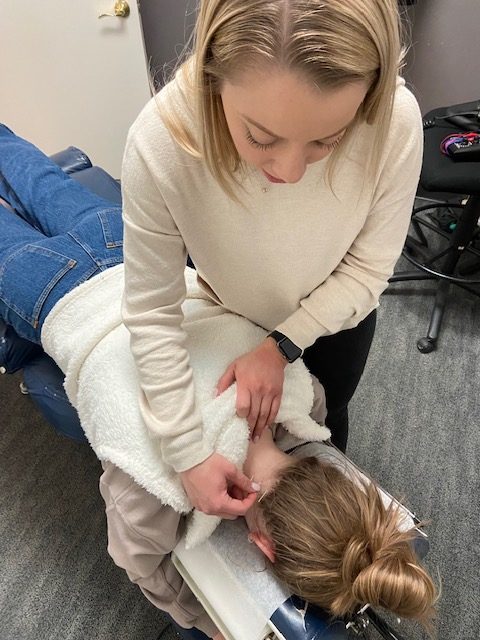 5. What Should I Expect During Treatment? Adding dry needling to your chiropractic session is generally a very quick process. Unless a gown is required to access the area of pain, you will remain fully clothed with only the treatment area uncovered. The needles that are used are so fine that you should not feel any pain but may feel some slight discomfort until they are in place. Depending on your pain or injury our practitioners may leave the needles inserted for a few minutes or they may use a gentle pulse technique to ensure your muscles relax. Mild pain or swelling may occur after treatment and your provider will let you know any at-home care that may need to follow treatment. Unless your injury prevents it, you may resume normal daily activities without any restrictions.
---
6. Is Dry Needling Right For Me? Dry needling is an effective and safe treatment for patients that are suffering from chronic trigger points and musculoskeletal pain. Combined with other treatments, such as chiropractic, dry needling can help minimize the time it takes for your body to heal and maximize your ability to get back to feeling better faster.
OFFICE HOURS
---
Monday
7:00am - 7:30pm

---
Tuesday
7:00am - 7:00pm
---
Wednesday
7:00am - 7:30pm
---
Thursday
7:00am - 7:30pm
---
Friday
7:00am - 6:30pm
---
Saturday
9:00am - 2:00pm
---
Sunday
9:00am - 2:00pm