Chiropractic Testimonials
"I'm excited to switch over to Wellness Revolution and am looking forward to seeing improvement in my health and life! I went from needing assistance to walking when I came through the door to not needing assistance in just one visit, which is impressive! I'm a fan of the different modalities offered here and really liked the doctor's energy. The front desk staff was excellent! Thanks for being so kind, patient, and understanding today. When a person is in pain, a smile goes a long way."
-Stephanie S.
---
"My first time visiting a chiropractor and everyone from Dr. Alex to the staff were friendly and supportive."
-Darlene M.
---
"Dr Nick was great. He provided clear explanations and the techniques he used were very helpful. I felt relaxed when I left. I am happy I went to see him. I made a bunch of appointments at the end of my visit."
-Claudia L.
---
"Thank you for your service. I was impressed with everything, from Brooke at the front door, the environment of your office, the Dr's, their personalities, and ability to listen to the individual patient and aid in their healing process."
-Maura W.
---
"Professional and caring. Great visit."
-Lindsey S.
---
"Dr. Tracey is awesome!!!"
-Matthew D.
---
"Wonderful friendliness and spirit exuded across the entirety of the office, from the way in, all the way through the appointment and on the way out. From the first moment, I knew that I was in good hands, literally. Thank you!
-Jon R.
---
"Loved being greeted immediately and introductions of staff with names. That's very welcoming. Amy was great at explanations of payment and paperwork. Made me feel comfortable and at ease right away. I liked the explanations of my injury and what could be done to help. The visuals made it even clearer. Felt some relief when I left, still had a rough night getting comfortable in bed, but by this morning, a drastic improvement in mobility from laying to standing and sitting to standing. Most notable was getting in and out of the car. Actually looking forward to my appointments for next week!"
-Beth D.
---
"Dr. Alex Powers is amazing. I am 74 years old and have gone to chiropractors on and off since a bad fall in high school and another accident in my 40s. I recently moved to Evanston and was concerned about getting a new chiropractor. This was the best visit I've ever had! I was extremely impressed with Dr. Powers abilities to diagnose my problems and provide effective treatment and advise. I am pleased that she can also perform "dry needling" which has been helpful to me in the past."
-Jeanette G.
---
"Am very happy to have been referred to your practice by Howard Rose. Having seen many chiropractors for several decades, in various parts of the country, I am delighted to have found Wellness Revolution! I can say with confidence I recognize an outstanding chiropractor when I find one, and Dr. Breitbach is excellent. His adjustments are precise and he quickly identifies the source of the problem. The staff is welcoming and efficient, making visits an overall pleasant experience."
-Sofie G.
---
"This was my first time seeing a chiropractor and I was pleasantly surprised at how quickly and effectively I received a preliminary diagnosis that resulted in an adjustment that instantly and for the rest of the day (so far) has provided considerable relief."
-William R.
---
"Wellness Revolution is the BEST!!!!! I have had chronic pain for over 15 years and I know that this team is trying to get rid of my pain – not just subdue it "for now"!!! I feel like I can walk in and chat with this team like they are my friends and family. I know they are all listening and engaging the entire. My doctor and the front desk manager are both unbelievably kind and friendly. After the first visit, I immediately decided that Wellness Revolution was a part of my team of doctors to help with my chronic pain. Thank you Wellness Revolution!!!"
-Sophia F.
---
"I've been seeing Dr. Tony for a couple of years. I started with an intensive period of massage and multiple adjustments each week (- 6 weeks in total). I was a little skeptical at first, but it has really helped my back and my running. I used to get pain and tightness in my lower back regularly, and occasionally it was debilitating. I haven't had anything like that since. I now see Dr. Tony monthly for a 'tune-up'. All of the staff are great and easy to work with."
-Ruben K.
---
"Emma was really the reason I chose your practice in comparison to many others. She was very helpful and verified my benefits over the phone on the first call. Dr. Tracy is great and I'm already feeling SO much better!"
-Natasia V.
---
"I came in with acute pain in lower back and hip. I had seen chiro years ago but stopped for several years due to several stressors. I somewhat knew what to expect from this first session, but was so surprised by the genuineness and positive vibe of the doctor and staff that I left confident I will be better. The doctor's warmth and sympathy for my great losses and sacrifices proved I was in empathetic hands. I'm convinced this intangible value-added benefit helped me heal. The next day, the acute pain was gone and I was moving around my office so well the other staff noticed. I'm so grateful for finding them."
-Koren S.
---
"I was extremely impressed from the first time I called to ask questions about billing, to making the appointment, and I walked through the front door all the way to when I left. Everyone was so kind, and helpful, and were all customer service oriented... you don't find that very much at places anymore. I'm so glad I found this place and I have been telling everyone that I know how great you guys are."
-Marty B.
---
"Dr. Tracy Fleege is so wonderful. I believe she was heaven-sent to help me. I have been having pains so badly for the last year or so and I saw a rheumatology doctor. He gave me a steroid shot and for a month it would feel better but it kept coming back. I was encouraged by my family to see a chiropractor. I am 80 years old and a retired nurse. Dr. Tracy listened to everything I said, asked a lot of questions, explained everything to me and always made sure I felt at ease and comfortable. After the first visit, I already felt 50% better. I was already able to get up off a chair without holding onto anything, the pain had lessened considerably like it was almost gone. I went home that day and did some household cleaning. And it continued for the next couple of days. What a miracle! Two days later, I put some music on and I was able to dance to it like I used to. I just went back again for my second visit today after a couple of days and she keeps making me feel better. My daughter said I move and walk faster too. Hallelujah…thank you everyone there. You are all so wonderful and helpful. I will keep seeing Dr. Tracy because I feel like I am back to my old self. Thanks again Dr. Tracy and God bless you all."
-Nelita E.
---
"Toni was fantastic. Never had such a deep comprehensive exam or treatment from any chiropractor like this. I was surprised to have not just an adjustment but deep pinpoint muscle work as well with detailed instructions on how best to sit and exercise after my adjustment."
-Melodye B.
---
"Everyone at the Wellness Revolution went above and beyond to welcome me and take care of me. After feeling discouraged about living with pain and only given prescription painkillers to handle it, I have new found hope that I will heal and feel well again. With the doctors and staff at your practice, I feel in control of my health again. Thank you!"
-Tracey S.
---
'Very appreciative that you managed to get me in so quickly when my daughter called saying I was in pain. Everyone is very friendly and welcoming."
-Lilia C.
---
"I really appreciated my first visit. The doctors appeared clear and competent. It allowed me to feel hopeful that there is help for my rather chronic issues."
-Sonya C.
---
"Great first impression and subsequent visits have continued to meet and exceed expectations. Very friendly and attentive staff."
-Ryan W.
---
"I am happy to be part of your practice. Good fit all around. Dr. Tony has a nice way about him, and the adjustments were done with a compassionate hand."
-Debi B.
---
"The entire practice is so very welcoming. The evaluation is very thorough and time is taken so that you quickly understand your own situation. Dr.Breitbach was clear and compassionate as he outlined my course of treatment. I was in pretty bad pain and feeling vulnerable. His kind and gentle manner created a feeling of safety and trust. Now, that trust has been earned. Two and half weeks into treatment and the quality of my life is completely changed. I can move without pain. I am so grateful!"
-Merle S.
---
"I've had chiropractic treatment in the past and was a bit skeptical, but after just the second visit started feeling pain relief and we haven't even started on the exercises yet! I'm very hopeful for the treatments to come."
-Debra P.
---
"I have had lower back pain and have noticed wonderful results from the office visits and my strict physical therapy at home. I have been given and reminded of exercises essential for my body now and for the rest of my life. These exercises and visits have helped with several other issues I have been dealing with as well. It goes to show you that everything is connected to help work properly."
-Cindy L.
---
"I loved the friendliness of everyone. I was extremely impressed about the understanding of first time visit and having a walk through."
-April W.
---
"Dr. Tony is great and his staff was very friendly and welcoming. I feel much better after the first couple of appointments and wish I would have come in sooner."
-Steven M.
---
"Everyone in the office was super helpful! I was in a ton of pain my first visit. Feeling better after the 2nd visit. I look forward to going back next week."
-Kim S.
---
"Very nice staff alongside with experienced chiropractors. On my first visit, I was well greeted and thoroughly examined followed by analysis of the pain in my back. Later, I was given a small pain relief session; I am looking forward to my next visit and will recommend this clinic for family and friends."
-Sara B.
---
"The staff and doctors are extremely professional. They are considerate of your time, very welcoming and helpful, and knowledgeable in their field. I am definitely recommending them to my friends and family."
-Annie M.
---
I didn't realize how misaligned my spine was and how it was affecting other areas of the body. I am hopeful that with the treatments at Wellness Revolution, I can work to have it corrected and feel healthy and at my best.
-Elisa P.
---
"From the moment I walked through the door of Wellness Revolution, I was greeted by friendly receptionists who took the time to introduce themselves and answer my questions. The professional care and treatment offered by Dr. Tony and his staff gave me confidence and hope that my condition would improve."
-Richard J.
---
"I had a wonderful experience. All of Wellness Revolution's doctors and staff are very helpful. The office is very pleasant. Thank you for your help!"
-Hannah A.
---
"All good! Great staff, and when I met Dr. Toni I knew I was in good hands. He gave me lots of information, listened, was encouraging, and after one treatment I already feel so much better! I'm hopeful that he'll get me on the road to good health again."
-Christine O.
---
"Dr. Tony was very thorough and explained the process very well. I had never been to a chiropractor before and was seen through a recommendation of a family member after I was in a car accident. Dr. Tony and the entire staff made a nervous experience a great relaxing and informative time! There is so much more to just chiropractic care at the Wellness Revolution. I immediately felt better after my first appointment and cannot wait until the next one. The rest of assurance of a healthy spine and lower back helped ease the pain immediately. Thank you Dr. Tony and the team at Wellness Revolution!"
-Annie M.
---
"I quickly became confident that entrusting my health to Wellness Revolution was a decision I am going to be thankful for in the future."
-Madeline S.
---
"The front desk staff are personable, wonderful and accommodating. Dr. Tony was extremely knowledgeable and you can tell he has a wealth of techniques and experience that combined together make for powerful and successful healing."
-Katie M.
---

---

---

---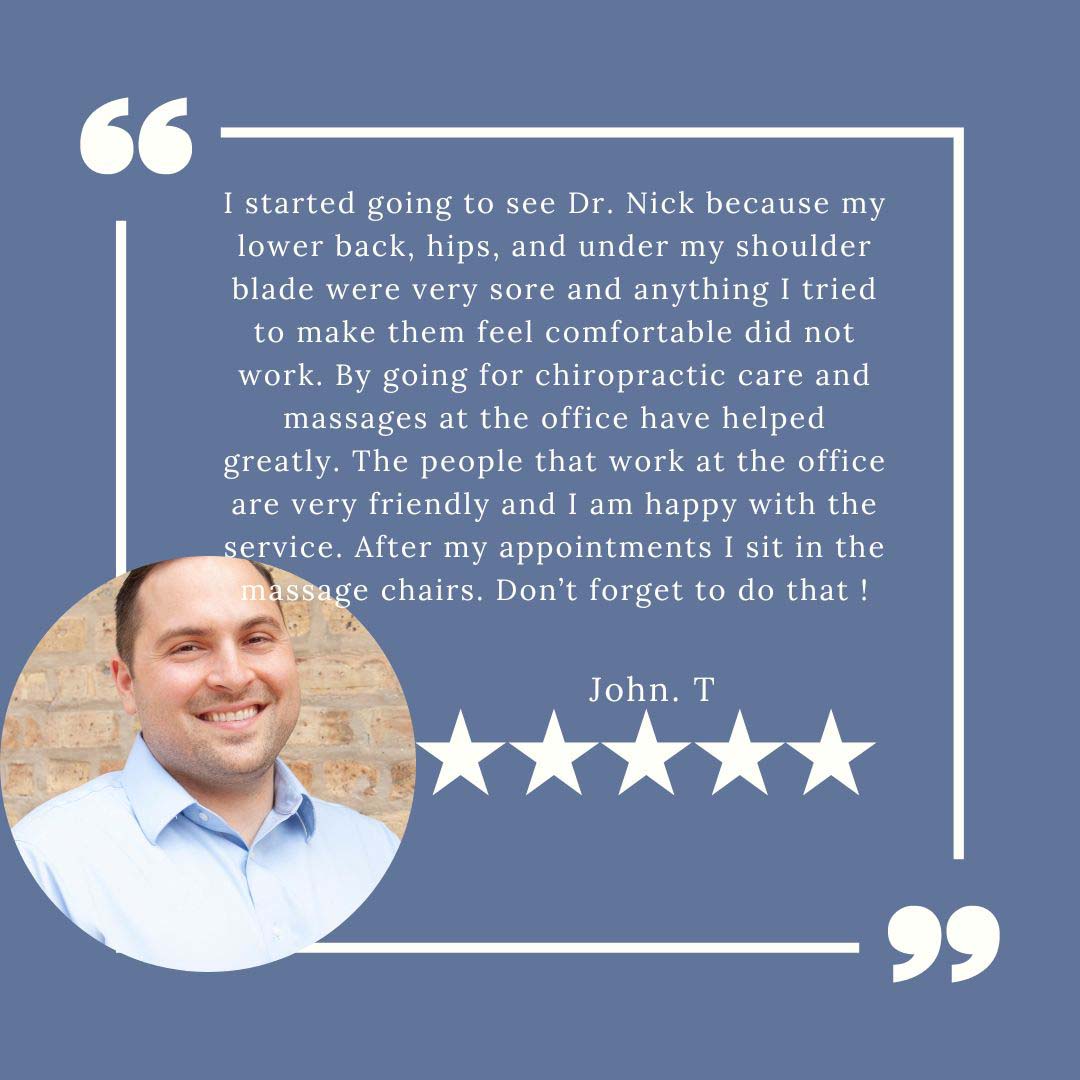 OFFICE HOURS
---
Monday
7:00am - 7:30pm

---
Tuesday
7:00am - 7:00pm
---
Wednesday
7:00am - 7:30pm
---
Thursday
7:00am - 7:30pm
---
Friday
7:00am - 6:30pm
---
Saturday
9:00am - 2:00pm
---
Sunday
9:00am - 2:00pm