Dr. Tony Breitbach, Evanston Chiropractor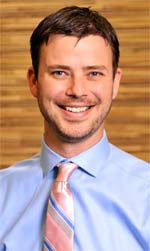 It's my mission to be able to help as many people as I can get out of pain quickly and reach their full health potential through chiropractic care.
Feeling Instant Results
At 7 feet tall, Dr. Tony had a long way to go to pick things up off of the floor in college and one day while bending over he felt something pop in his back. For three straight weeks, the pain became more severe, and sudden onset of heartburn made his condition worse. The pills that the medical doctor prescribed only helped for a few hours.
Dr. Tony had a friend going to chiropractic school and he convinced him to give a different doctor a try. This new doctor, a chiropractor, did an examination, took some X-rays and then adjusted Dr. Tony's spine. "The adjustment felt great. I got relief and could actually walk around normally again! My back got better, and my heartburn also went away."
Becoming a Natural Health Expert
Impressed with his quick results and the other seemingly miracles seen at the chiropractor's office, Dr. Tony decided to enter the health field. The medical doctors he shadowed were caught up in managed care and mostly just prescribed medications to cover up symptoms. "The chiropractor was helping people. His patients were happy, and his office had an incredible energy."
The decision to become a chiropractor was made. Dr. Tony began his chiropractic education at Palmer College of Chiropractic. The courses he took there included anatomy and human physiology, X-ray, diagnosis, chiropractic adjusting techniques and patient care at the Palmer College Public Clinic.
Providing Outstanding Care
"I want to help people without the use of drugs and surgery, the two usual options within the medical profession. Chiropractic care can offer conservative solutions for neuromusculoskeletal conditions."
Dr. Tony is certified in
Full body Active Release Techniques®
The McKenzie Method®
Dry needling
In his spare time, he enjoys being active and staying fit, spending time outdoors and bicycling.
Contact us today to schedule your time with Dr. Tony! Most insurance is accepted at Wellness Revolution, including Medicare.
---
Dr. Tony Breitbach| Chiropractor Evanston | (847) 869-1773