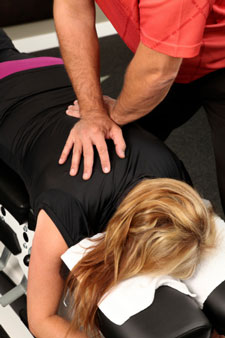 "But don't you just crack backs?"
We hear it all the time.
Instead of just bringing you out of pain and into wellness, our team strives to help patients better understand how chiropractic care works and what it truly does for your body and overall health.
We'd like to let you in on four little-known facts about chiropractic care and hope you'll visit us in the practice soon to give it a try!
1. It helps you better manage stress.
Dealing with stress is an inevitable part of life. In fact, we can't prevent our bodies from experiencing it on some level. But what we CAN do is help our bodies better adapt to how stress is managed. Through focused chiropractic adjustments, we can help your body restore its ability to heal itself and communicate effortlessly with the brain and other critical organs. When things are functioning as they were meant to, you're better able to accommodate stress.
2. We're more than just back crackers.
Did you know that chiropractic care has helped women better manage PMS and migraine suffers reduce their frequency? That's because a balanced nervous system means a well-functioning body!
3. The benefits go beyond physical.
Many of our patients have commented on how chiropractic care doesn't just help them feel physically better, but also improves their emotional and mental state. Why? Because when you're feeling good, all of you feels good! While pain can often weigh us down as we go through life, we're here to remind you that it isn't normal, and you don't have to deal with it.
4. Care is unique to each person.
No two patients are alike, and that means no two patients receive exactly the same care plan. At our practice, we provide specific adjustments where you need it most—whether you're dealing with joint or muscle pain, low back issues, tension in the neck, digestive problems or even issues relating to your feet. We have a variety of techniques that can help bring you out of pain and into wellness.
Dr. Tracy Fleege has been a chiropractor for over 16 years. She loves introducing new patients to chiropractic and watching their wellness blossom. If you're new to chiropractic contact our office to schedule an appointment. Dr. Tracy will show you the way!