Happy Ten Years Emma- 1.2.3 Focus in Evanston IL
HAPPY TEN YEARS EMMA- 1.2.3 FOCUS in Evanston IL

Anniversary in Evanston IL
I hope you are all having a great week and enjoying our very different 2020 version of summer!
Yesterday, I celebrated my 10 year work anniversary for Wellness Revolution, our chiropractic clinic in Evanston IL, so it felt quite fitting that I write today's 1.2.3 Tuesday focus email for you. With any big milestone I feel it forces time for reflection and I have to admit I felt pretty emotional all day yesterday. As I looked back on how far I have actually come in the past ten years. I was a painfully shy English girl who bravely left all my family and loved ones to immigrate to USA to start a new life. I had to say things twice as nobody understood my accent, driving on the other side of the road scared me to death so I rode my bike everywhere and explored the streets of my new hometown Evanston. Fast forward to now I am a mother to an incredible 8 year old her name is Sofia, we bought our first american home and I have been given the opportunity to make my mark on Wellness Revolution and make a positive impact in my role thanks to Dr.Tony. Whom I thank for believing in me all those years ago and giving me endless personal and professional growth opportunities. I know I would not be the same person I am today without him as my mentor and friend. Luckily for me, some of our patients and co workers have become my closest friends and if you are ever in doubt, know you have the most dedicated team of people here constantly striving to better serve you. Its been an incredible 10 years of highs, lows and everything in between. We went from a staff of 2 to 22 and we can even add surviving an ongoing pandemic to our list of achievements along the way.
I hope you do what you love and love what you do as I have done here for the last ten years.
Cheers for 10 years,
Emma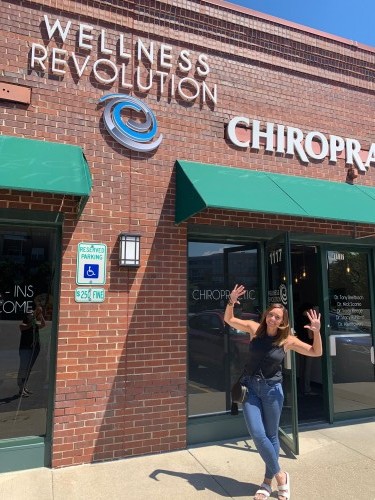 Mind, Body & Soul
MIND: We are given 1440 minutes each day. We all get the same amount of time…you, me, Oprah, Tony Robbins, Warren Buffet. It is up to us how we choose to spend each minute of each day. If we do not value our time, no one else will value our time. As life is slowly starting to get busier again, one of the ways I stay organized is time blocking my schedule. So much can be done in 15, 30, 60-minute increments if you focus in and don't allow distractions to creep in.
BODY: Dedicate 1 hour a day to YOU!
Move your body, be active, walk or do a short workout. My go-to gym that was closed for nearly four months re opened with precautions last week (Orange Theory Evanston) Oh my goodness I am so grateful,  I feel like a different human getting my workouts back in! On Sunday nights I like to block my schedule for the week with those one hour slots to sweat it out, even if it does not always happen, plenty of times, life gets in the way but the intention is there and I try my best to stick with it as when I do I feel amazing!
SOUL: I don't know who originally wrote it but it's brilliant…
Every minute someone leaves this world behind.
We are all in "the line" without knowing it.
We never know how many people are before us.
We can not move to the back of the line.
We can not step out of the line.
We can not avoid the line.
So while we wait in line -
Make moments count.
Make priorities.
Make the time.
Make your gifts known.
Make a nobody feel like a somebody.
Make your voice heard.
Make the small things big.
Make someone smile.
Make the change.
Make love.
Make up.
Make peace.
Make sure to tell your people they are loved.
Make sure to have no regrets.
♥
OFFICE HOURS
---
Monday
7:00am - 7:30pm

---
Tuesday
7:00am - 7:00pm
---
Wednesday
7:00am - 7:30pm
---
Thursday
7:00am - 7:30pm
---
Friday
7:00am - 6:30pm
---
Saturday
9:00am - 2:00pm
---
Sunday
9:00am - 2:00pm