Find out how chiropractic care and massage at Wellness Revolution have allowed Dr. Tony to train for an upcoming grueling physical challenge.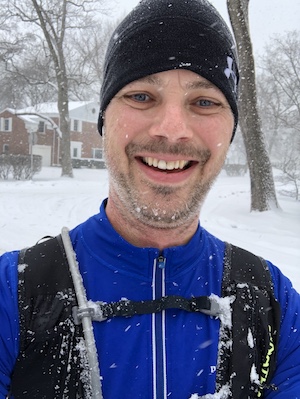 Many visitors to Alaska drink in the majestic scenery at a leisurely pace, often on a cruise ship. Not Dr. Tony. This summer, he's taking on the grueling challenge of the Alaskaman Extreme Triathlon, to be held on June 29, 2019. The event is considered the most demanding race of its kind in North America. "As I turn 40 this year I wanted to present a big physical challenge to myself. So I found the most extreme thing I could find with this race!"
This punishing event includes swimming 2.6 miles in the 55-degree Resurrection Bay. The next part is cycling 112 miles along the mountainous passages of the Seward Highway. If that's not enough, you must run 27 miles up the extreme trails of Mount Alyeska over one of the most difficult run courses in the sport.
Dr. Tony's past extreme athletic pursuits include riding his bike from California to Florida. He's also ridden down the West Coast and cycled through Chile.
Getting Race-Ready With Chiropractic
When Dr. Tony first started training for the triathlon, he was dealing with a lot of hip pain. "I would run 4 or 5 miles, and when I'd get to the fourth mile, my right hip hurt so bad. I thought, 'How am I going to run 27 miles?'"
He realized that he wasn't following the advice he gave patients, which is getting care on a regular basis. That's particularly the case if you're training for an athletic endeavor. Dr. Tony feels fortunate to work in an office with a great massage therapist and other chiropractors who have been able to help him get out of pain. One of our techniques that has helped him greatly is Active Release Technique® (ART®). Recently, he was able to run 10 miles completely pain-free. Dr. Tony gets the following to prepare for the big race:
A weekly massage
A chiropractic adjustment each week
ART weekly
Putting in the Time
Due to the intense nature of the Alaskaman Extreme Triathlon, Dr. Tony is logging serious time training for it. "It's like a part-time job." Currently, he's training 13 hours a week and will max out at about 24 hours a week. He feels stronger each week and continues to push himself hard. Stay tuned for future posts that track his training.
Whether you're an athlete training for an upcoming competition like Dr. Tony is or you simply want to enjoy improved function so you can participate in your favorite activities, contact us today!