1.2.3 Focus with Dr. Tracy in Evanston IL
1.2.3 FOCUS with Dr. Tracy in Evanston IL

HELLO,
It's Dr. Tracy again with my latest thoughts, ideas, and brain candy for our blog at Wellness Revolution here at our chiropractic clinic in Evanston IL. This round is written after some recent exposure to a book titled "In Praise of Difficult Women." Draw your own conclusions about why the topic appealed to me.
1. Joke in Evanston IL
"There comes a time in every woman's life when the only thing that helps is a glass of champagne." (Bette Davis)
2. Quotes
Y'all are getting more than one quote here. I am the eldest of seven girls in my family, and we come from a long line of strong and crazy women who know how to celebrate one another.
"The success of every woman should be the inspiration to another. We should raise each other up. Make sure you're very courageous: be strong, be extremely kind, and above all be humble." (Serena Williams, professional tennis player)
"I raise up my voice-not so I can shout but so that those without a voice can be heard." (Malala Yousafzai, Pakistani activist for female education and the youngest Nobel Prize laureate)
"I used to think I was the strangest person in the world but then I thought there are so many people in the world, there must be someone just like me who feels bizarre and flawed in the same ways I do. I would imagine her, and imagine that she must be out there thinking of me too. Well, I hope that if you are out there and read this and know that, yes, it's true I'm here, and I'm just as strange as you." (Frida Kahlo, 20th-century Mexican painter)
"If you're always trying to be normal, you will never know how amazing you can be." (Maya Angelou, Pulitzer-prize nominated poet)
"Leaders become great not because of their power but, because of their ability to empower others." John Maxwell
3. Mind. Body. Soul
Mind
One of my favorite authors is Agatha Christie, who is listed by Guinness World Records as the best-selling fiction writer of all time. I can't pick a favorite, but I will give a special shout-out to "And Then There Were None." It blew my mind when I first read it at age 13. It still does today!
Body
Soul
"To make life a little better for people less fortunate than you, that's what I think a meaningful life is. One lives not just for oneself but for one's community." (Ruth Bader Ginsburg)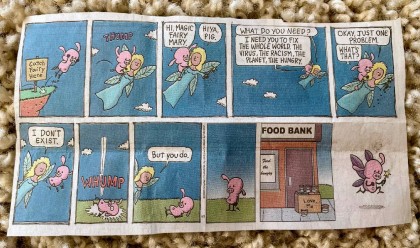 The past six months have not been easy on many of us, myself included. I have often fallen into the rabbit-hole of deep dark thoughts, which is often complicated by doomscrolling through a never-ending news cycle. Nevertheless, I find that it has been very good for my soul to donate to various human rights charities. The following website has been very useful for me. The cartoon is courtesy of my mom, one of the most giving and charitable people I know.
OFFICE HOURS
---
Monday
7:00am - 7:30pm

---
Tuesday
7:00am - 7:00pm
---
Wednesday
7:00am - 7:30pm
---
Thursday
7:00am - 7:30pm
---
Friday
7:00am - 6:30pm
---
Saturday
9:00am - 2:00pm
---
Sunday
9:00am - 2:00pm